Glacier Helihike Tasman Glacier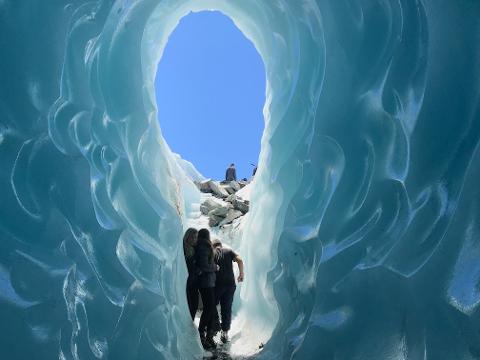 Duration: 6 Hours (approx.)
Location: Queenstown, NZ
Product code: THH
Our Glacier Heli-Hike is one of True South Flights' more popular tours, allowing you to enjoy all that the Aoraki/Mt Cook National Park glaciers have to offer within a single day.
The one-hour fixed-wing flight from Queenstown to Franz Josef (or Mt Cook) Tasman Glacier is just the beginning of a day filled with spectacular scenery. You'll fly over the Southern Alps, home to over 3000 small glaciers, to Franz Josef Glacier on the western face of Aoraki/ Mt Cook or the Tasman Glacier on the east. The weather in this mountainous region can be very changeable with rain frequent on the western side. We have the flexibility with our guiding partners to be able to alternate from one side to the other should the weather not be suitable to visit the glacier of your choice, and our tours to both are very similar.
On arrival at either the Franz Josef glacier tour or Tasman Glacier tour, we'll accompany you to your check in with our helicopter and guiding partners, Alpine Guides, who will provide you with all your necessary equipment and a safety briefing.
The experienced guides will then take you into a deep part of the glacier via a scenic helicopter flight. Your helicopter will pass over the deep crevasses of the icefalls and waterfalls to land at the upper Franz Josef icefall, or a scenic helicopter flight will transport you over the Tasman terminal lake to land at the middle of the Tasman Glacier.
Here, you'll be fitted with crampons for the two hours on the glacier ice, exploring ices caves and seeing the natural, ever-changing wonders of the South Island's glaciers.
Both the Franz Josef glacier tour and Tasman glaciers tour offer very similar experiences and you will not be disappointed with either option. At 23 kilometers the Tasman Glacier is much longer, and the Franz Josef is steeper—but when you hike the glacier there is little to separate one from the other. We suggest you book your preferred option but remain flexible on the day to swap if the weather requires.
A minimum of three passengers is required for this tour however if you are travelling solo, please contact us as we may be able to accommodate you with another group.